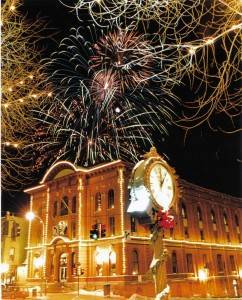 - Christmas celebration with fireworks in Saratoga, NY
The clock is ticking on deciding on your 2011 holiday decorations... Christmas is only 2 months away! We have some extremely exciting decor options that are taking the industry by storm - favorites this year include: pole decorations and silhouettes, holiday and winter banners, giant Christmas trees - specifically sphere trees, exploded tip garland, energy efficient LED's, and "European" style decorations that incorporate much more blues and bright whites...
Our clients often ask us, "what can we do to differentiate ourselves from x, y, z competitor?"
The answer...
Together, with the experts at Downtown Decorations, Inc. we can work with you to analyze your environment, your geographic ares, your target demographics, your objectives, your limitations, and what we should draw attention to/away from. Incorporating these elements with what is trending in the industry, your own decor objectives, likes, and influences we will work to provide multiple different decor styles and renderings to help bring your thoughts and conceptions to reality. Every Christmas products distributor is capable of providing you with a catalog and saying, "look through and tell me what you like" - instead, the industry leaders at Downtown Decorations, Inc. bring consultation to a whole different level. The concept-to-creation process involved providing you complimentary expert consultation and design with veteran industry graphic artists, where they work with you step-by-step to create a design concept to meet your exact needs, goals, and budget.
Trust complimentary in-house design, trust experience, trust reputation - trust the experts...
Phone: 877.369.6332
Email: info@downtowndecorations.com
Visit: www.downtowndecorations.com