We couldn't be more excited to show off this picture - it truly is our favorite gift of the holiday season. This year, Downtown Decorations, Inc. donated a giant 6ft lit and decorated wreath alongside other decorations to the men and women of the 908th Expeditionary Force of the US Air Force. The wreath was shipped to Fort Bragg, CA and then went directly to the base in Afghanistan. Thank you to all of our men and women in uniform that are allowing all of us to celebrate a safe and joyous holiday.
Check out the photo and press release below: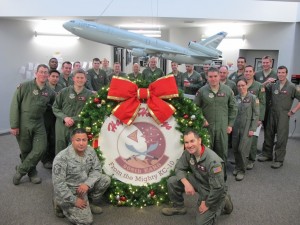 SYRACUSE COMPANY DONATES DECORATIONS TO TROOPS IN AFGHANISTAN
National Holiday Décor Company Headquartered in Syracuse Brings Holiday Cheer to Air Force Members Stationed in Afghanistan
For the past 5 years Downtown Decorations, Inc, a Syracuse based commercial holiday decoration company, has been giving back during the holiday season – particularly to the men and women in uniform serving overseas. This year, Downtown Decorations was pleased to provide the men and women of the
908th Expeditionary Air Refueling Squadron stationed in Kabul, Afghanistan, the flight wing that flies the massive KC-10 airborne refueling tankers, some very much needed holiday decorations. On December 15, 2011 a shipment of holiday decorations including the flagship item: a 6ft lit, and decorated, giant artificial wreath took off from Syracuse, NY stopping first to be consolidated at Fort Bragg, CA, prior to reaching its final destination of Kabul, Afghanistan.
This year was particularly special to Downtown Decorations as they were able to donate decorations to a squadron that has recently come under command of a close family friend to the Peterson family, owners of Downtown Decorations, Inc. Company President Ted Peterson says, "This year was particularly tough in deciding where and who exactly to donate to. A young man that was best friends with my son growing up and through the years is now serving in Afghanistan – it's like having a son over there. […] giving back is something we have always placed a great deal of importance on – these men and women bravely risk their lives, and sacrifice time away from their friends and family to protect our nation, and our values – providing them some comfort during the holidays it the absolute least that we can do."
Noteworthy national clients include: US Army, See's Candy, Pyramid Management, General Growth Properties, Simon Property Group, City of Los Angeles, CA, City of Augusta, GA, City of Stamford, CT, City of Anchorage, AK, City of Oklahoma City, OK, City of Columbus, OH, City of Providence, RI, Tanger Outlets, and the Government of the Turks and Caicos.
Other noteworthy décor projects locally include: Destiny USA, The giant 12ft wreath hung annually on the front of University hospital, décor at University Hospital, décor at Golisano Children's Hospital, décor at Community General Hospital, and décor at the CNY Philanthropic Society, Village of North Syracuse, Village of Manlius, and the Village of Baldwinsville.
Noteworthy local banner clients include: Syracuse University, Le Moyne College, Onondaga Community College, Village of Cicero, and the Valley Historic Society.
Attached picture depicting the members of the 908th
Expeditionary Squadron around the donated wreath from Downtown Decorations is sole property of Downtown Decorations, Inc. Downtown Decorations, Inc. grants explicit permission for use of this press release and photo in all publications.
About Downtown Decorations:
Downtown Decorations, Inc. is a leading national provider of commercial and municipal holiday decorations as well as light pole banners. Incorporated in 2003, Downtown Decorations is a private corporation headquartered in Syracuse, NY globally serving municipalities, retail centers, universities, corporations, hotels, casinos and event venues.